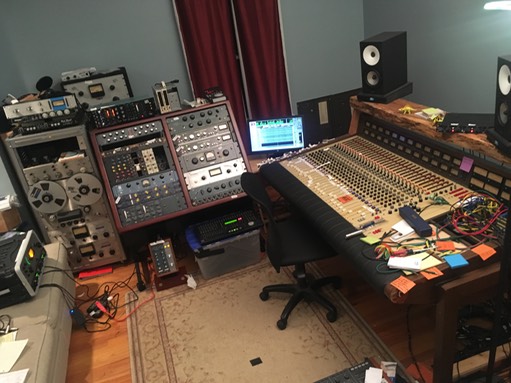 Founded by long-time roots music radio DJ and recording engineer Dave Tilley - Bogue Sound Studio in Durham, NC sits in a quiet residential neighborhood just a few blocks from ninth street. Bogue Sound Studios is a comfortable and pressure-free environment to record and mix your project in.  
Bogue Sound Studios is focused on recording and producing acoustic and roots music of all sorts -- Blues, Jazz, Folk, Gospel, Bluegrass, Old-Time String-bands, Country, Swing, Honky-Tonk, Jazz Big-Bands, etc.   This is our focus because this is the music we love to play at home and on-air.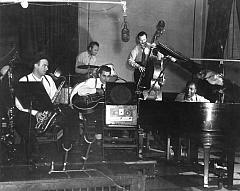 Our gear is tailored to the kind of music we record: Acoustic instruments played by Real players and singers interacting together in the room, recorded with classic microphones and analog electronics.  Our experience has been that getting good sounds with the right microphone in the right location in tandem with  quality analog gear is preferable to any digital or computer processing one undertakes after recording.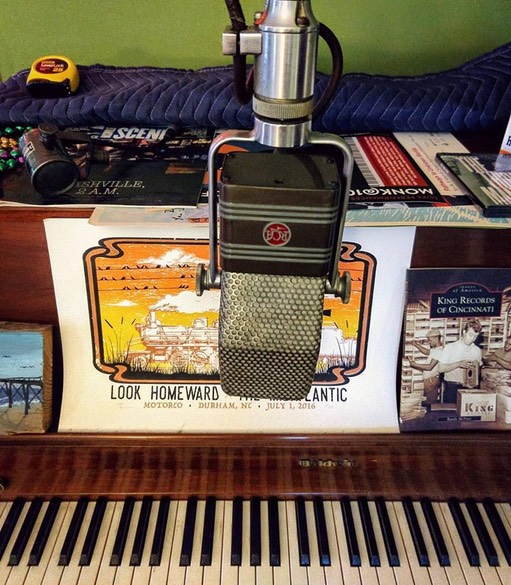 Discerning musicians know that certain older acoustic instruments have tonal qualities and timbres not found in the instruments that are manufactured today. Similarly, certain vacuum-tube-based microphones and outboard gear manufactured in the 40's, 50's and 60's have tonal characteristics and a presence which makes them favorites of musicians, singers and producers everywhere. Some of this older gear remains, to this day, unmatched by contemporary audio equipment. Listen for yourself and see. We strive to get the best sounding recordings we can by combining this older gear with modern digital recording technology.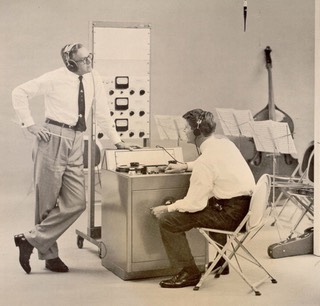 We can record you here in our studio or we can bring our mobile recording van to your concert, performance hall, nightclub, or house of worship and record a live concert or other performance on-location at a place and time of your choosing - no matter how remote...

The Studio's name comes from a body of water on the North Carolina coast — The Bogue Sound — It is one of my favorite bodies of water in the whole world!  It is located between Morehead City and the barrier island that is home to Fort Macon, Atlantic Beach, Pine Knoll Shores, Salter Path, Indian Beach and Emerald Isle.  In North Carolina, all our rivers (but one) run first into sounds, before meeting the sea.  The photo above was taken in the middle of the Bogue Sound, adjacent to Salter Path — it shows the rapidly disappearing Dog Island, which is pretty remote indeed...