Consoles:
MCI 428 — Quad/Stereo console, 28 channels, 16 buses, four reverb sends, Neve-meets-API EQ
Studer 269 - 16 channels of Swiss-made gentle goodness with parametric EQ and compressors
Recorders:
  RADAR-24 - 24 track dedicated hard-disk recorder with amazing A/D and D/A
  AMPEX 351 - 1955 1/4" tape machine - all tube electronics
  STUDER A807 - 2-track 1/4" Swiss-made tape machine with timecode track
  MOTU 896 - 16 channel A/D interface for use with Digital Performer / Pro Tools
  Edirol 4-channel location/film recorder
Microphones:
  Telefunken U47 tube mic (1952)  -  Vocals as big as a house
  Neumann M49  tube mic (1949) (x2)
  Neumann U67 tube mic (1968)
  AKG C-24 stereo tube mic (1962) -- it's like having two C-12's - sounds awesome on drum overheads
  Neumann km-54 (x2)  -- fantastic small diaphragm tube mic - absolutely lovely on mandolin and acoustic guitar
  Neumann km-84 (x2)  
  Neumann km-85 (x2)  
  Altec M11 coke-bottle mic (x4) -- small diaphragm tube mic
  AKG C-414EB -- compact large diaphragm mic liberated from the sorely missed JAG studios
  AKG D-12 
  RCA 44BX -- Big-butt broadcast ribbon mic like no other (x2)
  RCA KU-3A — Unidirectional large-geometry ribbon mic, built for the film industry (only 500 of these were made).  Great for vocals and horns.
  RCA 77DX -- Smaller (but still quite righteous) broadcast ribbon mic
  RCA BK5A ribbon mic (x3)
  Altec 633 "salt shaker" omnidirectional mic
  Coles 4038 (x2) -- BBC ribbon mics
  Altec/Western Electric 639A "Birdcage" ribbon mic  (x2)
  Royer 121
  Royer SF-24 - modern phantom-powered stereo ribbon microphone -- excellent on drum overheads, guitars, choirs
  Beyer m-160 (x3) 
  Shure sm57 (x2) 
  Shure sm58 (x2)
  Shure beta87 (x2) 
  Shure KSM32 (x2) 
  Shure "Green Bullet" harp mic
  Senheiser e609
  Senheiser MD-421
  ElectroVoice RE-20 (x2) 
  Neumann TLM-103  --  the mic they love to hate
  DPA 4061 (x2)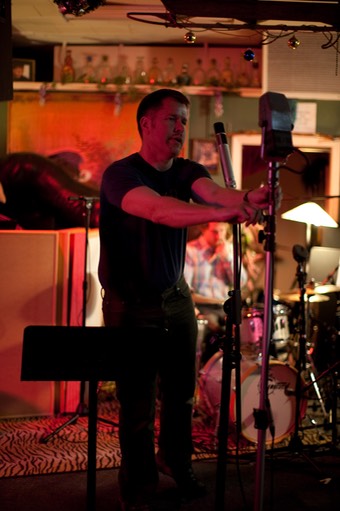 Mic Pre-Amplifiers:
28 channels of MCI 428 console pre's — modded with discrete op-amps
16 channels of Studer 269 console pre's
24 channels of ATI 8MX2 for remote/on-location recording/mixing
2 channels of Neve 31102 — huge gain, big iron, fantastic EQ
4 channels of API 512
4 channels of John Hardy M-1
RCA BN-2A - Vacuum-tube remote pre-amp / mixer with 90db of gain
2 channels of Aurora GTQ2  (Neve clone)
8 channels of Aurora GTP8 (Neve clone)
2 channels of Phoenix DRS (Neve clone)
4 channels of Telefunken/Tab/Siemens v72 modules - 1950's German tube pre-amps
2 channels of Telefunken/Tab/Siemens v76 modules - 1950's German tube pre-amps -- big, wide, open, high-gain monsters
 In the studio...
Or recording live on-location, from inside the van... 
Compressors/EQ/Effects:
Pultec EQP1A — Inductor / vacuum-tube EQ
Pultec MEQ5 — Mid-Range Inductor / vacuum-tube EQ
Collins 26u — A beast of a tube limiter!
Teletronix LA-2A tube-based opto compressor (1967)  --  awesome on vocals
Gates Sta-Level tube compressor - amazing tube broadcast compressor
UREI 1178 compressor 
UREI LA-4 solid-state opto compressor
Neve 2254e compressor/limiter (x2)

DBX 165 "over easy" compressor (x2)
Empirical Labs Distressor
Crane Song Trakker
Telefunken/Tab/Siemens u73 tube compressor (x2)
Toneluxe EQ4 (x2) 
ANT W695b EQ (x2)
Neumann W495 mastering EQ (x4)
Kurzweil KSP-8 reverb unit
We got stuff to boss the electrons around...
Live, Remote Recording: This is how we roll…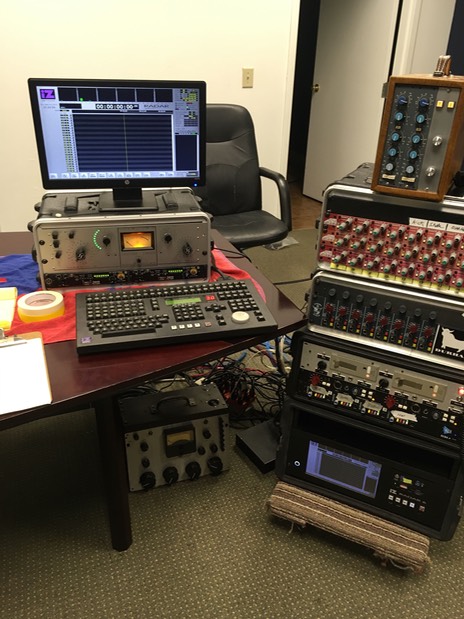 Instruments/amps:
Hammond B-3 organ w/ Leslie 122  (1965) 
National Steel Tricone Guitar - style#1  (1939)
National Steel Duolian Guitar
National Triplex Chord Changer Lap Steel
National amp - great for lap-steel / harp
1968 AMPEG Reverb-o-Jet amp -- with reverb and tremolo
Silvertone Accordion 
Martin 00-18 guitar (1956)